Organs
The Doctoral School Closed Carbon Cycle Economy is organizationally divided into various organs. The decision-making organs of the DS CCCE are the General Assembly and the Board, which is represented by a spokesperson. In addition, the daily business of DS CCCE is conducted by a managing director, whereby the management is bound by the instructions of the board. An overview of the organs of the DS CCCE is shown in the following figure: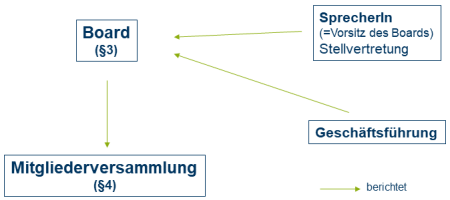 Organs of DS CCCE pursuant to §2 of the Rules of Procedure
General meeting
The general meeting includes all supervisors[1], doctoral students and all other members of the DS CCCE. The general meeting of the DS CCCE meets at least once a year at the invitation of the spokesperson. The board reports to the general meeting. Decisions of the general meeting are binding for the board. The General Assembly decides on fundamental adjustments in the qualification programme of the DS CCCE and on strategic questions concerning the orientation of the DS CCCE.


Board
The Board consists of three supervisors and three doctoral students who must be members of the DS CCCE. The composition of the board should be based on gender parity as far as possible and with appropriate consideration of the scientific disciplines involved (humanities and social sciences, engineering sciences and natural sciences) and is elected at a general meeting. The Board shall meet on a quarterly basis. The tasks of the Board include, among others
the definition of the DS CCCE guidelines

co-determination on the distribution of financial resources among doctoral students of the DS CCCE

the organisation of the DS CCCE qualification programme

the consideration of special achievements within the framework of the qualification programme

the decision on the admission of new candidates to the DS CCCE.

The Chairman of the Board is the speaker of the DS CCCE. A spokesperson shall be represented by a deputy. The board reports to the general meeting.

The current composition of the Board is listed under Contacts.

Further information on the organs of the DS CCCE can be found in the Rules of Procedure.


[1] Within the framework of the DS CCCE, supervisors are not only professors but also postdocs who supervise DS CCCE doctoral candidates. These can also be elected to the Board as members of the DS CCCE.